Yesterday was World Elephant Day, an annual event dedicated to the preservation and protection of the world's elephants.
In recent years, elephant numbers have dwindled due to poaching, deforestation and other serious threats.
Every year, around 20,000 African elephants are killed by poachers for their tusks, which are then sold in the illegal ivory trade.
The illegal wildlife trade is devastating, not only to animals but it also affects security, economic growth and the well-being of local communities.
UK takes the lead on cracking down on ivory trade
Marking this year's World Elephant Day, the Environment Secretary, Michael Gove, announced he will be chairing a new initiative to unite world leaders, conservationists and experts to crack down on ivory markets and increase enforcement against the gangs driving elephants to the brink.
To help protect Elephants, the Ivory Alliance 2024 was recently established by the Government with the aim of reducing the illegal killing of African elephants for their tusks by at least a third by 2020 and then to further halve the rate over the next three years.
The UK is already introducing one of the toughest bans anywhere on ivory trading and taxpayers are also currently funding £26 million in efforts to combat illegal wildlife trafficking.
This October, world leaders will be coming to the UK for the Illegal Wildlife Trade summit to discuss other strategies for tackling criminals and corrupt middlemen driving the ivory racket.
It's a start but we need more…
The scale of the trade is shocking. On average, over 1,000 rhinos are slaughtered a year, 55 African elephants are killed a day and every five minutes a pangolin is snatched from the wild. The illegal wildlife trade is estimated to be worth more than £15 billion a year.
I have seen firsthand the lengths poachers will go to to get their hands on ivory and rhino horn. The brutality and violence knows no bounds.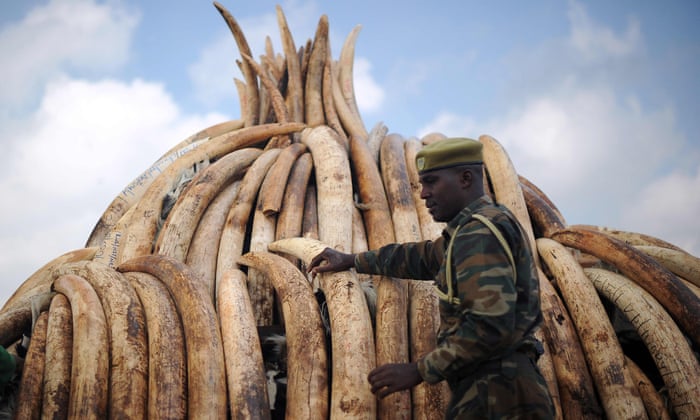 Many organisations are dedicated to stopping the trade, with WWF leading the way to stop poaching, trafficking and the buying of illegal wildlife products.
Although our government is going in the right direct, it is nowhere near enough. We need more commitment and action from governments across the world to end this criminal activity before it's too late.
This October, we need big commitments to close domestic ivory markets and tackle illegal ivory trade, particularly from Thailand, Vietnam, Myanmar & Laos.
Please sign & share the WWF petition calling on global leaders to stop wildlife crime.